What To Expect
How Our Care Works
Do You Have a Pinched Nerve? We Can Help!
We utilize the gentle Quantum Spinal Mechanics3 (QSM3) Upper Cervical technique.
Since 2005…Over 300,000 adjustments served!
Upper Cervical Chiropractic of Monmouth
Upper cervical chiropractic care focuses on the relationship between the structure of the body and the functional integrity of the nervous system. The upper cervical spine protects the highest neurological control center in the spine or brainstem. The nerves that originate in the upper cervical spine directly control the function of the head, eyes, ears, nose and throat. The vagus nerve, which originates in the upper cervical spine, controls many vital functions. These include the body's stress response, blood pressure and digestion.
Postural misalignments occur three-dimensionally and have both structural and neurological consequences. Every misalignment stems from a structural injury and a response to that trauma. The wisdom inside of us is busy working to maintain our upright position to minimize our three-dimensional collapse under gravitational stress and our diminishing energetic value over time.
Any interference between the brain and body may decrease healing response and contribute to disease, infirmity and sickness. At Upper Cervical Chiropractic of Monmouth, LLC, our team of upper cervical chiropractic professionals focuses on removing interference so the body can heal naturally without the use of surgery or medications.
What Is Upper Cervical Chiropractic Care?
Upper cervical chiropractic care focuses on correcting spinal misalignment, also called spinal subluxation. While this type of care is delivered through the cervical spine, it affects the spine as a whole.
Upper cervical care is precise and gentle and does not require the twisting and turning typically associated with traditional chiropractic care, making it ideal for sensitive patients. Upper Cervical care recognizes that there is an ideal position for the human framework. Anatomists have defined the human structure as "Tensegral", physiologists have defined its fascial connections and function, and 25 years of research have shown the deleterious effects of bio-tensegral breakdown.
At Upper Cervical Chiropractic of Monmouth, LLC, our team of upper cervical chiropractic professionals determines the neurological and biomechanical changes that may be the underlying cause of a patient's current health challenge. The misaligned spine may interfere with the brainstem and spinal cord, leading to dysfunctional or ineffective nervous system signaling.
What Is the QSM3 Method?
Quantum Spinal Mechanics3 (QSM3), uses X-rays and postural analysis to measure spinal misalignment and determine the best way to release the postural breakdown to stimulate the body's natural healing response. It's a comfortable, safe and reliable way to realign the spine.
How Does the QSM3 Technique Work?
The upper cervical spine influences the entire spine's alignment, including the hips' rotation and tilt. The QSM3 method takes an all-encompassing approach to correct the cause of discomfort and pain, which in turn affects the entire spine. The upper cervical technique does not involve popping, twisting or snapping of the spine.
The QSM3 technique is an evidence-based approach to adjusting the upper cervical area. If the head and neck are properly positioned over the spine and pelvis, it creates a position of ease for the spinal joints and related nerves. Correcting spinal mechanics removes pressure from spinal joints and nerves, which can relieve pain and promote the healing of damaged tissues. An upper cervical chiropractic professional will use objective evaluations to track your progress throughout your healing process.
Conditions Helped Through Upper Cervical Chiropractic Care
The most common conditions helped through upper cervical chiropractic care include:
Back and neck pain
Disc herniations
Pinched nerves
Sciatica
Poor posture
Migraines and headaches
Muscle weakness
Post-concussion syndrome
Meniere's disease and vertigo
Sleep disturbances
Chronic fatigue and fibromyalgia
Temporomandibular joint (TMJ) disorders
High blood pressure
Schedule Your Initial Consultation
You can trust our chiropractors for effective and natural relief options. Schedule a consult with Upper Cervical Chiropractic of Monmouth, LLC today! You may reach us at 732-617-9355 or contact us online.
The QSM3  Approach is Gentle
A Gentle Correction a gentle touch and controlled contact on the first vertebra in the neck is designed to restore balance to the spine and nervous system. Even though the adjustment is administered at the neck, the efforts of the correction influences the whole spine and ALL body systems. This is because the QSM3 Chiropractic in Monmouth and QSM3 procedures influence one of the highest control centers of body balance and healing, the brain stem and central nervous system.
Patient Testimonials
Upper Cervical care has helped people suffering from the following conditions:
These are some of the many testimonials of patients who found relief after visiting Upper Cervical Chiropractic of Monmouth.
Neck Pain and Lower Back Pain
Vertigo and Meniere's Disease
Chronic Headaches and Migraines
Restricted Flexibility and Stiffness
Herniated Discs
Trigeminal Neuralgia

Pain associated with Auto-Immune Disease
Sciatica and Chronic Low Back Pain
Shoulder Stiffness and Painful Movements
Transient Tics
Fibromyalgia
Stress and Migraines
Janice
Life changing! My experience with the doctors and staff at Upper Cervical has been wonderful. They are helping me reach my health goals and with each visit I learn more about the human body and what's going on with mine. I have more energy, better coordination, and an amazing team to help me every step of the way.
Val
I went to Dr. Larry with numbness and tingling in my left hand. I would wake up at night with the pain from my left hand. I am no longer in pain at night. The fingers are so much better. The manipulations are gentle and soothing.
Casey
I enjoy going to Upper Cervical Chiropractic every week. Ever since I started coming here, I no longer have headaches or tension in my neck. It's a miracle. I am so grateful for all the doctors that help me along the way. I don't know what I would have done if UCC wasn't mentioned to me.
Casey, Mother of Corey
My son Corey (24) has been seeing wonderful results from his chiropractic care at Upper Cervical Chiropractic and Dr. A. for his Crohns disease. Dr. A is so caring and knowledgeable. His staff is so friendly and helpful. Our only regret is we didn't begin sooner! Highly recommend this wonderful place!
Male – age 11 (as told by his mom)
Initial complaints for 11-year old boy, as told by his mom, were headaches, migraines with nausea and vomiting, stomach aches, and frequent motion sickness. We tried traditional chiropractic care, children's Tylenol and Advil, increased water consumption, and magnesium.
This problem was very limiting for my son, and our family, as he always got car sick and had migraines with nausea when we traveled. It was heartbreaking for me as his mom. He feels much better and is having no car sickness! We just went on a 12-hour road trip and for the first time he had NO headache, nausea or vomiting. YAY!
We plan on continuing with wellness care because this is what balanced my sons nervous system, allowing him to heal. I would tell others who are considering Upper Cervical Chiropractic care, but who are unsure of it, "TRY IT!" You will be surprised at how gentle it is and it may just be what you need to heal.
Esther
About a year ago I walked into Dr Larry's office hunched over from the intense pain in my lower back. I couldn't even straighten up. I was welcomed with open arms from the wonderful assistants in the office and then from Dr Larry.. He told me to trust him and he would help me renew my life.. Grt me physically & mentally healthy.. I knew I was in good hands and today because of Dr Larry and his wonderful staff I am able to take ballroom dancing classes, Zumba classes and now bowl..And most importantly my anxiety level has gone down immensely which woukd often paralyze me!!! I am eternally grateful and feel so blessed to have this wonderful & patient office take care of me!!Thank you Dr Larry and now Dr Rivers also for taking such wonderful care of me!! You changed my life!
Mary
Since beginning my care with UCC my life has a changed dramatically for the best. I have learned so much about wellness and have become the master of my health. It has been almost 5 years since my first appointment and the caring and compassionate staff always takes the greatest care with every patient. I am grateful for each and every terrific Tuesday that I get to see the doctors.
Laura
This is the ONLY place that has provided me relief from back pain that I've been dealing with for 10 years. I tried physical therapy, yoga, regular exercise, acupuncture, massage therapy, and other chiropractors, to no avail. The doctors and staff are wonderful, and the technique works!
Christina, Mother of Son age 3
My 3 year old son who was born 6 weeks early has a speech delay. He has been receiving speech therapy for over a year now and had recently started going to Upper Cervical Chiropractic.
I am so glad my son gets adjusted by Dr. Larry and his team. I wish I had brought my son to them sooner. Just within a couple of weeks of getting adjusted, my son uses so many more words together and labels so many more objects. Without a doubt I know this is because of my son getting adjusted at UCC. As a mom, you want to do everything you can for your child to succeed in life and now I feel like I am doing EVERYTHING I can to help him. Along with talking more , I have also noticed he is sleeping a lot better through the night which is a plus for him and mommy. 😉
My son loves going to UCC. Thank you for everything you have done and will continue to do for my son and I ! 🙂
Michelle
This is the single best find of my life – the business model of this company is top shelf. Every single person from receptionists to doctors with whom I have had the pleasure of meeting has been a top level professional.
Wendy
I was 20 years old when I started getting pain in my lower back. After months of being in pain, and not being able to stand for more than 20 minutes at a time, I finally said I need help. My father found Upper Cervical and brought me there one day. It was the best decision I have made. They showed me what was wrong and how they will help. They gave me a quick and painless adjustment and by the time I got to my truck outside, I was pain free. A year later, I am stronger and still go pain free. Thank you Upper Cervical!
Linda
I became a believer! I was quite the skeptic when I came to Dr. Larry. I woke up every day with throbbing headaches and daily neck pain. I didn't doubt that he could make me feel relief with each adjustment, but to change my life to have no more headaches and neck pain is more than a coincidence … it's amazing. I've been going for over a year …. and I intend to stay on this track of feeling the best I can feel. My life has changed. I actually look forward to getting my adjustments. Thank you Dr. Larry. Also, thank you to the girls in the office who always cheerfully accommodate my schedule.
Chris
Great practice! Great staff. They have been a big help dealing with my arthritis. Highly recommend UCC!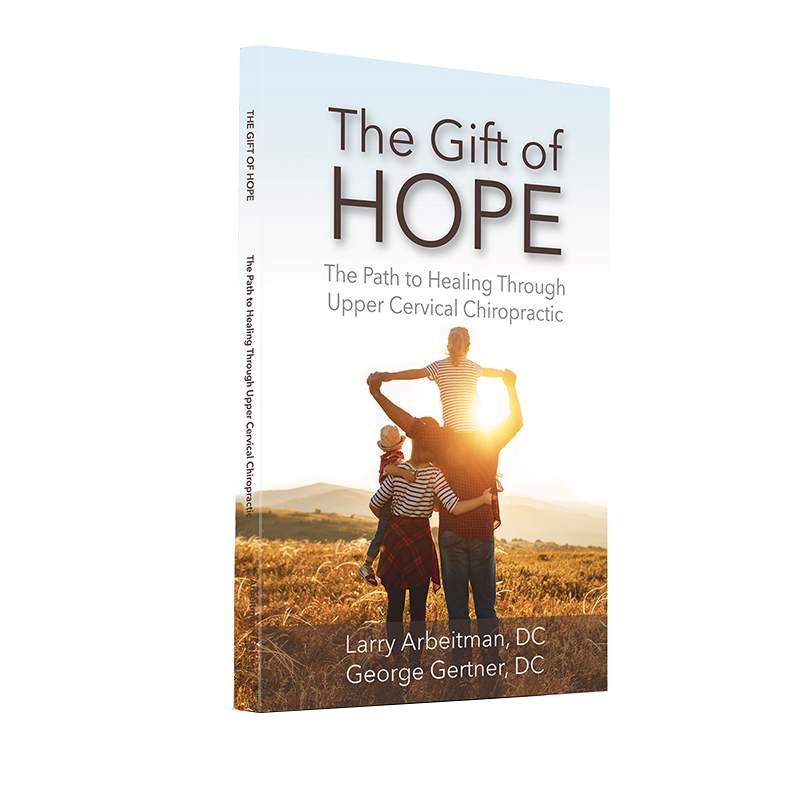 Fill Out The Form Below To Request A FREE Consultation and Get a FREE Copy of My Book (in eBook format) That You Can Instantly Download!
—
Discover Hope for Healing… In this ground-breaking book by Dr. Larry Arbeitman and Dr. George Gertner. This book normally sells for $14.95, but for a limited time you can receive this book absolutely FREE.
New Patient Forms
Adult Intake Paperwork Pediatric Intake Paperwork Neuropathy Program Application