What is Corrective Chiropractic?
Listen or Read Dr. Larry Arbeitman's Podcast Interview!
Topic – Corrective Chiropractic Care
Below you will find an easy to read transcript of Dr. Larry Arbeitman's monthly podcast interview.  You can click the video to listen to the podcast or simply read the easy to follow transcript below. Enjoy!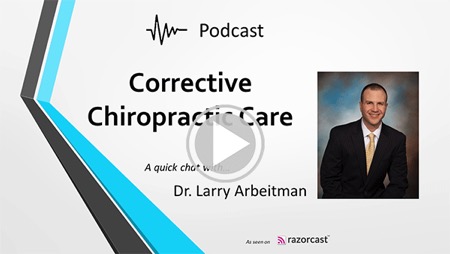 Podcast Interview:
RC: Hello everyone. This is Liz Harvey coming to you from our studios in New York City where we are dedicated to bringing you top-quality advice from many of the leading expert professionals across the U.S. In today's episode, we are speaking with chiropractor Dr. Larry Arbeitman. Dr. Arbeitman earned a bachelor of science degree in kinesiological science from the University of Maryland at College Park and graduated magna cum laude from Logan College of Chiropractic in St. Louis, Missouri.
Dr. Arbeitman is the founder of Upper Cervical Chiropractic of Monmouth located in Marlboro, New Jersey and has overseen more than 150,000 patient visits in nearly 12 years. He has become well respected within the profession and most specifically, the Upper Cervical Specialty. He routinely trains, teaches and lectures nationwide to colleagues, students, and to the general public. He is currently an active board member for the QSM3 Upper Cervical Method.
Today, he will highlight several of his key points from his book, The Gift of Hope: The Path To Healing Through Upper Cervical Care.
Dr. Arbeitman is widely considered to be one of the top chiropractors in the country. He is also a contributing member of our national network of industry professionals.
Today we're going to talk about a very important topic:
Corrective Chiropractic Care
RC: Hello Dr. Arbeitman. How are you today?
Dr. Larry Arbeitman: Hi Liz. Great to be with you.
RC: Thanks for joining me.
What are the main principles of corrective chiropractic care?
Dr. Larry Arbeitman: You know people hear the word chiropractic and it really just brings up one thought in their mind and for many people it may just be a bad back, or bad neck, or cracking of the spine. It's really none of that. Really if you look at chiropractic as sort of like dentistry, you got general dentistry and you got orthodontics. If you look at chiropractic, a lot of the profession is doing what I call general chiropractic, where it's sort of patch care. There's a lot of value to it. Somebody has a pain syndrome and they're going to do whatever they can to help that person get out of pain as quickly as possible and there's a lot of utility and value in that.
The corrective care chiropractic goes a step further. We're much like orthodontists, we're looking at the root cause of what's causing the pain. What we have found is there arecertain biomechanical changes. We'll just call them misalignment or subluxation, where the spine has gone off from its normal position. By being in this abnormal position for an extended period of time, it leads to progressive wear and tear, and then degeneration, and then perhaps arthritis, maybe even a herniated disc.
The corrective care chiropractor focuses on correcting those abnormalities in the biomechanics that is leading to the pain syndrome, so the patient doesn't end up on this sort of carousel. Now just like the orthodontist who puts the braces on and then they have to be tightened and checked, and tightened and checked, and it may take anywhere from 3, 6 to 9 months to maybe even a year and half for those teeth to straighten, the same thing with the spine. You know we do an adjustment – we can't put braces around the spine so it does require visits over time and constant checkups. When we get to the point where we take another look at the spine, we're looking to see that these biomechanical changes, the twists in the spine, the curves in the spine, the tilt, the leaning off of center, that these underlying causes are actually corrected.
There is a percentage of our profession that consider themselves and practice this sort of corrective care chiropractic. Now what's really important for a corrective care chiropractor to communicate to the patient is that not everything is correctable. The same way if you go to the dentist and you got a big gaping hole in your tooth, like you're not going to grow a new tooth, and so the degeneration and the arthritis that is there is not correctable. If you can get the mechanics corrected, what I have found and many other doctors have found, is that the progression of the arthritis, degeneration, or herniated disc can be significantly slowed down or stopped in its entirety.
I think that's the main difference between corrective care chiropractic and patch or relief care chiropractic.
In what ways is a patient evaluated during a corrective chiropractic care visit?
Dr. Larry Arbeitman: You know it really goes back to the beginning of their intake into the practice and finding out what is important for them. If the patient is interested in solely relief care, that's okay, but we have a duty to let them know what is available to them and what is in their best interest. So, it starts out with the consultation and the examination where we're looking at things like chronicity, past trauma. How long have they been living with this condition/symptom for? Then we rely heavily on digitized x-rays. You know the technology with x-rays is absolutely incredible and it's continuing to grow in leaps and bounds so we just updated our digital system for the second time this year.
What it allows us to do now is take the entire spine, put it onto an x-ray, and measure it to a hundredth of a millimeter these biomechanical changes. So once we get the consultation and the exam and the x-rays done, we're able to make a very accurate recommendation to that patient of what it's going to take to achieve a correction or to patch their spine.
I kind of use those words. Some things are correctable and some things are patchable. You know for an 18 year old who has no history of trauma, you know it may be just a couple of weeks or a couple of months before maybe a 55 year old man who played football and fell off a scaffolding and has multiple herniated discs and severe arthritis, it could take nine months, twelve months of corrective care. We tailor that recommendation based on, again, the consultation, the examination, and the x-rays.
Now on a visit to visit basis, we're constantly evaluating the patient's nervous system, their posture, their alignment, their body balance and there are re-evaluations on a monthly basis. Eventually we're going to get to a point with that patient when we say, "You know based on our daily checks and your progress to date, it's appropriate for us to take a follow-up set of x-rays so we can actually do an objective comparison." I think that's a big difference. You know I consult with patients every month that have been to other doctors that tell me that they weren't even x-rayed before they were adjusted. Let alone x-rayed after the care to see what kind of outcomes.
I have patients also bringing in MRI studies and they were compared to MRI studies from six years prior. We're seeing on the radiology report that there's no progression in their degeneration or their arthritis over a six, seven year period. That's amazing.
You know I'm thinking of one patient, Sue, who was told about 14 years ago that she'd have neck surgery within 10 years. She just brought us in … Now it's been 14 years and she hasn't had neck surgery, but she brought us in an MRI that revealed that there's been no progression in her condition. That's somebody that's gone through the corrective process and then the maintenance process.
My next question is actually about x-rays. I think you answered it, but I'll ask it anyway. Are x-rays required for corrective chiropractic care?
Dr. Larry Arbeitman: Yeah. We did just go there and absolutely. That would be like a cardiologist not doing an echocardiogram, or a stress test, or blood work. How could you have a clinical objective and then not measure it? So, I think measurement becomes a huge part of clinical practice.
I mean yeah, you can ask a patient how they feel but that would be equivalent of you going to your internist and him saying or her saying, "How do you feel today?" "Well I feel good." "All right. Well come back when you feel bad and then we'll do some tests." No, they don't do that. They do tests because sometimes some things are happening within your body that you don't feel, so just going based on how a patient feels I think is an incomplete strategy to caring for people.
Is this type of care recommended for people of all ages?
Dr. Larry Arbeitman: Yeah you know it's interesting, because as we take care of young moms and young dads and they see their spines in their 30's and 40's they say to themselves, "Well could this have been prevented?" Often times it could be prevented and we talk about the same way we take our children to the dentist before their teeth hurt or they have decay, because we're trying to prevent those things, that it makes sense to have the children checked. So, we're seeing younger and younger children come into our practice for preventative checkups and those young healthy spines, they don't need corrective care because there's nothing to correct. They go right into what we consider wellness or maintenance care. The same way if somebody invests ten, twenty thousand dollars in correcting their teeth cosmetically, then there has to be some sort of maintenance after that. Otherwise they're going to start to go downhill over time.
I would say a lot of the children don't need corrective care, they go right into wellness or maintenance care and even some adults. However, if you haven't been to the dentist, let's say in the first 20 years of your life, there's probably going to be some sort of correction that's needed. So we do see a correlation between age, lifestyle, and past history of trauma to the spine that will determine the level or the amount of corrective care that's required for people.
What we do, our duty as the doctor, is again to present the two types of care; general care or corrective care, and give the person, empower the patient, the opportunity to choose which is right for them.
What are the overall health benefits of receiving corrective chiropractic care?
Dr. Larry Arbeitman: The context of this conversation has been talking about getting the spine into better alignment, to slow down degeneration and arthritis as much as it can be slowed down. And that would obviously prevent a lot of suffering in the future because we know as a result of spinal degeneration and subluxation, that can start to put pressure on the central nervous system. Different types of nerves that can create all kinds of pain syndromes. But since the nervous system is the master control of the body and the health of the body, the adaptability of the body, the blood pressure, the digestion, the immune system, the hormones, the ability to relate to the outside world is all filtering in through the nervous system, it just makes sense.
You know you want to keep the body healthy. You have to keep the spine healthy. The body will only be as healthy as the spine. What happens over time, because we're all living in this world with gravity constantly pressing down our bodies, we're all looking down at our cellphones, sitting in front of our computers, sitting in front of our laptops, the body is compressing. A study came out in the Journal of Neurosurgery earlier this year that said spinal curvature, specifically in the middle back, has been linked to, not bad health, mortality. Yeah, like longevity of life, because as the spine starts to collapse, it presses in on the internal organs; the lung, the heart. It pushes the diaphragm into the stomach. People develop GERD. It can raise the internal pressure within the body.
Everybody knows about the foundation of their home. They know about the balance of their car. They wouldn't build the house on crooked foundation. They wouldn't drive the car without developing problems on a crooked axle. What about our body? What about our body?
There are profound health benefits of going through corrective care chiropractic. Not to mention the amount of money, time, energy, and suffering that will be saved by doing it now.
RC: Well thank you so much Dr. Arbeitman. We know you're extremely busy, so I just want to thank you for your time and help today.
Dr. Larry Arbeitman: Oh it's my pleasure to share these concepts with our community. Thank you, Liz.
RC: And for our listeners across the country, if you are interested in speaking with the doctor please visit www.getwellnj.com or call (732) 617-9355 to schedule an appointment. Consultations with Dr. Arbeitman are always complimentary. He has never charged anyone to sit down and have a consultation in order to discuss their health needs and whether or not upper cervical care may be right for them.
On behalf of our team, we want to thank you for listening and we look forward to bringing you more top quality content from our country's leading experts.